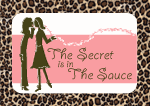 Who doesn't like a little validation and readership on their blogs? I know I love hearing what people think about what I have to say.
Well, today I found this blog,
The Secret is in the Sauce
, that is basically trying to do just that, encourage more people to comment on blogs. It sounds like a great way to network and find new blogs to read. They will feature all kinds of blogs on their site and right now they have a contest where one person will win a "Blogger's Survival Kit". To find out more about this contest, the prize and to enter,
visit SITS
and read their latest blog entry.