Happy Monday! Here comes another work week!
-Being featured on
The Secret is in the Sauce
! I adored what Heather said about me on there! I love knowing she enjoys those features of my blog.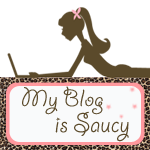 -Comments galore! I promise, I will respond to all of you! I hope you saw something you liked and will return again!
-Getting invited to
Cozycot.com
. If you have an interest in beauty or fashion, you should sign up!
-Marrdy called Leona Lewis "Louisa Lancock." She's so funny!
-No panty hell/heaven today! That means I get to catch up on responding to all the comments that I got today.
-Two of the VV brothers showed up to work today in nearly identical outfits. I think they're single-handedly trying to save Steve & Barry's from bankruptcy.